Dietrich Bonhöffer:
"When Christ calls a man, he bids him come and die."
Louis la Vache will take you now across the eastern border of France
into
Allemagne
to introduce you, if you don't already know him, to the German Lutheran Pastor
Dietrich Bonhöffer
, who is one of Louis' heros. Bonhöffer was unstinting in his criticism of Hitler and the Nazis. For a time, he worked in the safety of the United States and England, but felt compelled to return to Germany and work head-on against the Nazi evil. Hitler had him arrested and imprisoned shortly after his return.
Bonhöffer was born on
le 4 février 1906
in Breslau, Germany, now Wroclaw, Poland. He became a pastor, theologian and participant in the resistance movement against Nazism. Bonhöffer took part in the plots being planned by members of the Abwehr (Military Intelligence Office) to assassinate Hitler. He was arrested, imprisoned, and eventually hanged following the failure of the
20 juillet 1944
attempted assassination of Hitler.
Bonhöffer's father was a prominent German psychiatrist in Berlin; his mother homeschooled the children. Though he was initially expected to follow his father into the field of psychology, he decided to become a minister at a very young age. His parents supported his decision and when he was old enough he attended college in Tübingen, received his doctorate in theology from the University of Berlin, and was ordained. He then spent a post-graduate year abroad studying at Union Theological Seminary in New York City. During this time, he often visited the African Methodist Episcopal Church in Harlem, where he became acquainted with the African-American Spiritual. He amassed a substantial collection of recordings of these spirituals, which he took with him back to Germany.
Bonhöffer returned to Germany in 1931, where he lectured on theology in Berlin and wrote several books. A strong opponent of Nazism, he was involved, together with Martin Niemöller, Karl Barth and others, in setting up the Confessing Church.
The Confessing Church (Bekennende Kirche) was a Christian resistance movement in Nazi Germany. In 1933 the Gleichschaltung forced Protestant churches to merge into the Protestant Reich Church and support Nazi ideology. Opposition was forced to go "underground" to meet. In 1934, a group of pastors and congregations re-affirmed in the Barmen Declaration the focus of the church on Christ and their opposition against Nazi ideology.
Many of the leaders of the Confessing Church, such as Martin Niemöller (see "First they came," below) and Bonhöffer, were sent to concentration camps, and some died there. Christians who did not agree with the Nazis thus were without leadership, and were forced to worship much as they did in the early days of the Roman Empire; however, the Nazis were much less tolerant of religious variances than the Romans were. The Confessing Church engaged in various forms of resistance, notably hiding Jews from the Nazi regime.
Between late 1933 and 1935 Bonhöffer served as pastor of two German-speaking protestant churches in London. He returned to Germany to head an illegal seminary for Confessing Church pastors, first in Finkenwalde and then at the von Blumenthal estate of Gross Schlönwitz, which was closed on the outbreak of war. The Gestapo also banned him from preaching, teaching, and finally speaking at all in public. During this time, Bonhöffer worked closely with numerous opponents of Hitler. While the Confessing Church was not large, it represented a major focus of Christian opposition to the Nazi government in Germany.
Bonhöffer was among those who called for wider church resistance to Hitler's treatment of the Jews. In 1939 Bonhöffer joined a hidden group of high-ranking military officers based in the Abwehr, or Military Intelligence Office, who wanted to overthrow the National Socialist regime by killing Hitler. He was arrested in
avril 1943
after money used to help Jews escape to Switzerland was traced to him, and he was charged with conspiracy. He was imprisoned in Berlin for a year and a half.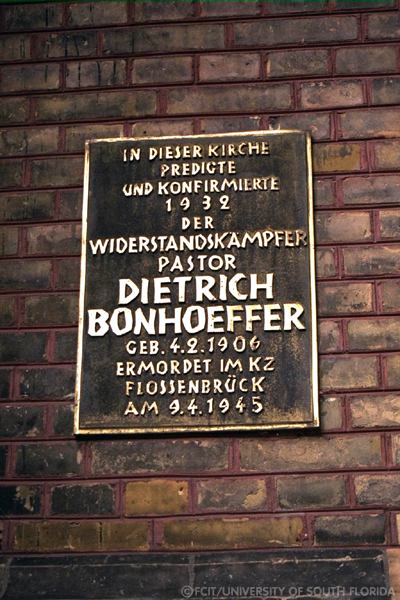 Memorial plaque on a church wall for Dietrich Bonhöffer who was murdered in the Flossenbrück concentration camp on le 9 avril 1945 .
Bonhöffer so impressed his prison guards in each of the prisons he was housed in that they, despite the danger to themselves, aided Bonhöffer by smuggling in paper and pencils and secreting out Bonhöffer's completed correspondence.
After the unsuccessful assassination plot on
le 20 juillet 1944
, Bonhöffer's connections to the conspirators were discovered. Despite his imprisionment in 1943, he was still involved in the plot. He was moved to a series of prisons and concentration camps ending at Flossenbrück. This camp held many of the U.S.and British officers who had been taken as Prisoners of War. Here, Dietrich Bonhöffer was executed on the direct orders of Heinrich Himmler by hanging at dawn on
le 9 avril 1945
, just three weeks before the liberation of the city. Also hanged for their parts in the conspiracy were his brother Klaus and his brothers-in-law Hans von Dohnanyi and Rüdiger Schleicher. For humiliation, and for the sadistic whim of the SS-staff present, all four men were forced to strip down completely in their cells before walking totally naked to the gallows.
Bonhoeffer's cell at the Flossenbrück concentration camp
Knowing the end was near, Hitler planned his suicide, but ordered that before he died every one of those involved in the plot
le 20 juillet
be found and executed.
Most of those involved in the periphery of the plot were "allowed" to commit suicide by taking a cyanide capsule. Those directly involved were stripped naked, tortured with a particular cruelty, and then hung by their necks on meat hooks in public squares. The agony of their deaths was recorded on film. The films were widely shown to the German public as a warning to other potential assassins.
Bonhöffer was allowed to perform a Divine Service for the Flossenbrück inmates the day before his death.
A British office imprisoned at Flossenbrück wrote this of Bonhöffer:
"Bonhöffer always seemed to me to spread an atmosphere of happiness and joy over the least incident and profound gratitude for the mere fact that he was alive...He was one of the very few persons I have ever met for whom God was real and always near...On Sunday, 8 April, 1945, Pastor Bonhöffer conducted a little service of worship and spoke to us in a way that went to the heart of all of us. He found just the right words to express the spirit of our imprisonment, the thoughts and resolutions it had brought us. He had hardly ended his last prayer when the door opened and two civilians entered. They said, 'Prisoner Bonhöffer, come with us.' That had only one meaning for all the prisoners - the gallows. We said good-bye to him. He took me aside: 'This is the end, but for me it is the beginning of life.' " Bonhöffer's text for this final sermon was "With his stripes we are healed."


Isaiah 53:5 - But he was wounded for our transgressions, he was bruised for our iniquities: the chastisement of our peace was upon him; and with his stripes we are healed.
Knowing he would die for his outspokeness, Bonhöffer nonetheless continued to be guided by Luther's admonition to ponder in each action or word "Wird Christus gepredit?" - Does this preach Christ? Bonhöffer still preaches Christ today through his writing. Bonhöffer's death has been a contemporary confirmation of Tertullian's dictum, "The blood of the martyrs is the seed of the Church."
Dietrich Bonhöffer was absolved of any crimes by the German government in the mid-1990s. An oft-quoted line from one of his more widely read books, "The Cost of Discipleship" (1937), foreshadowed his death. "When Christ calls a man, he bids him come and die." His books "Ethics" (1949) and "Letters and Papers from Prison" (1953) were published posthumously.
Bonhöffer's nephew by his sister is the conductor Christoph von Dohnanyi, son of Hans von Dohnanyi who died with Bonhöffer at Flossenbrück. He is similarly related to the former Mayor of Hamburg – himself a von Dohnani – and also to the Hungarian composer Erno Dohnányi .
Bonhöffer at Westminster Abbey
Bonhöffer is one of the ten
XX ème siecle
martyrs from across the world who are depicted in statues above the Great West Door of Westminster Abbey, London.
Dietrich Bonhöffer memorial in Wroclaw, Poland by Karl Biedermann.
"First they came...."
Bonhöffer's friend and fellow outspoken pastor Martin Niemöller is remembered for these famous lines:
"First they came for the communists, and I did not speak out -
because I was not a communist;
Then they came for the socialists, and I did not speak out -
because I was not a socialist;
Then they came for the trade unionists, and I did not speak out -
because I was not a trade unionist;
Then they came for the Jews, and I did not speak out -
because I was not a Jew;
Then they came for me - and there was no one left to speak out."
More reading:

Cost of Discipleship

Life Together: The Classic Exploration of Christian Community


Letters and Papers from Prison



Dietrich Bonhöffer - A Brief Life; written by Bonhöffer's sister-in-law. (Image of book cover not available)

Dietrich Bonhoeffer: A Brief Life